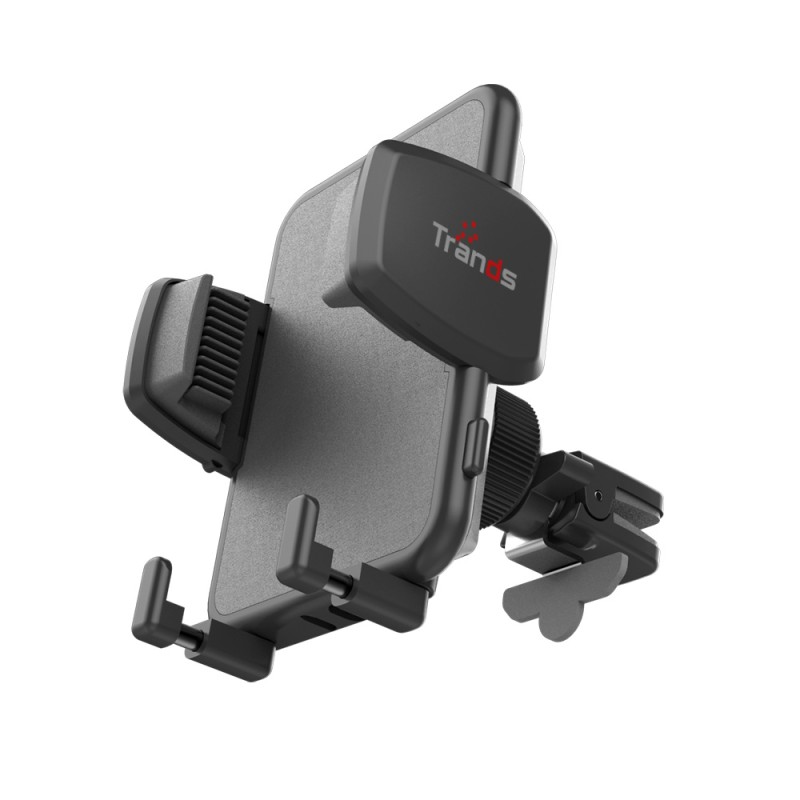 Car AC Vent Smart Phone Holder
Car AC Vent Smart Phone Holder is a very much useful and convenient product for holding smartphones inside a car and enjoy hands-free talking which offers you more safety during driving. Trands Car AC Vent Smart Phone Holder keeps your smartphone in sight at eye level and ready for GPS directions, streaming music, calls. Updated rotary clips ensure firm installation of the holder on most vehicle air vents; protects the holder from falling apart thanks to the sturdy base. This product is equipped with a spring-loaded arm, which firmly holds various devices up to 8.5 cm (3.35 in.) in width and is suitable for various phones, from 5.2 cm to 8.5 cm (2.05 in. to 3.35 in.) in width.

Fully adjustable ball joint, clips, and a clamp with 360-degree rotation (tilt and swivel) provide you with the best viewing angle; the holder ensures safe driving whether you are navigating, talking, or listening to music. No matter how you rotate your phone. This Holder uses a 360 degree rotating clip that securely mounts the holder onto any vent horizontal, vertical, and angled. Car AC Vent Mount Smart Phone Holder guarantees that your phone will remain in your preferred position. The base of the mount remains fixed into the air vent of your car and does not move, no matter how much swiveling or rotation you do. This guarantees that your smartphone will always remain in your preferred position.

Easy to Install and Easy to use. Scratch resistant and shockproof design. The clip on design features a rubberized padding to ensure your dashboard stays clean and with no remaining residue or scratches. Along with two air vent blade thickness settings, its a quick, simple, and secure installation for most vehicles. With foldable extra support arm, It ensures your phone will not fall off or vibrate at the bumps. It also works with most cases/covers.Non-toxic and odorless materials with high stability ensure relaxed and long-term usage; and, because of the non-magnetic material, no mobile signal interference will be caused. Suitable for various cell phones, such as the Samsung Galaxy S7, S6, S5, S4, NOTE 4, NOTE 3, iPhone 6S, iPhone 6, iPhone SE, 5S, 5, 4, 4S, HTC One M9, M8, LG G5, G4, and more.